This Month: Astrological Trends * Meditation * Recipe: "Black Bean Shrimp Poblano Salsa" 
September 2015 Astrological Trends
Fun and creativity take center stage in our activities as September opens with an exact Venus-Mars conjunction in Leo on the first day of the month. After the full moon weekend, life is asking us to shed our inhibitions and let go a little as the week begins. Finding enjoyment is truly supported, so really follow your heart this first day of the month, and let yourself laugh, dance, and sing—celebrating true love and romance all around you. This means self-love and love of nature and every type of creature, as well. Every expression of the heart is supported. When you feel your heart whispering about what it enjoys, I am asking you to follow its voice on September 1st, instead of keeping yourself in a cage.
I say this because a lot of the astrological conversation this month has to do with the axis of Virgo and Pisces, and the expansion of the discussion between diffuse and focused energies, as Jupiter in Virgo moves into exact opposition with Neptune in Pisces (about September 6 through about September 26) . Also, September 12, the Sun will enter exact opposition to Chiron, adding more emphasis to the Virgo/Pisces dialogue. Jupiter makes everything appear bigger, and Virgo energy is about attending to the smallest details, so it's possible we could feel compelled to get the details right. Meanwhile, it will make us very tired. The truth is, we will be learning, and learning requires a dance between the two. In bringing something new into life, into memory, into consciousness, we need to focus for a while (Virgo), and then let our brains rest into a diffuse (Pisces) state such as sleeping or exercising. Then we continue with focus for a while and then sleep on it, etc. I used to wonder why I would fall asleep in the afternoon and why I couldn't do the typical work schedule. Then I learned about learning and realized as we attempt these very intellectual jobs, our brains really need sleep after we think. When we fall into a stupor in the afternoon (and really we would be more productive if we listened to our bodies instead of our managers and current work systems), our bodies are trying to tell us it's time to go into a diffuse state of consciousness to process all the information we've thrown at it all morning. A lot of the most brilliant thinkers try to catch their thoughts at the point when they're just waking or just about to fall asleep because they solve problems at those points. Dreams, visions, meditations, times when we are walking or jogging or playing with our dog—these are moments of diffuse thinking and often moments when we get flashes of brilliance.
Looking at the Virgo and Pisces opposition from this stand-point instead of from a stand-point that the perfectionist archetype will be battling the dreamer and integrator archetype—I think takes it to a higher level and allows us to even get beyond archetypes and into a place where the astrology of it becomes useful and practical this month. It's a astrology we can use both at a spiritual level and at a real, everyday level. Because some might say that the low side usage of these energies would be to remain in anxiety and over-indulgence of substances and frustration.
Also, Mercury will be going retrograde in Libra September 17 through October 8, so finding methods to increase your personal, internal harmony will help you feel better. Reflecting on your abilities in the arena of making peace—internally and externally—would be a great use of the energies of Mercury. You might begin to see how to communicate more artfully, consider taking a class that helps you with social skills or helps you better put others at ease, or doing any activity that improves relationships in some way. Diplomacy is encouraged during September and October.
There is a New Moon Solar Eclipse in Virgo just after midnight on September 13. This works together with the solar opposition to Chiron mentioned previously. Chiron is actually at home in Virgo, so the fact that the Eclipse is calling out to Chiron is significant. This eclipse is focused on healing. It provides us resources to change direction and gives us help to change our lives in the most meaningful and impactful ways. We may be called upon to help others or to receive help. Allow the universe to lift you up into the light of healing, and allow yourself to be part of the stream of health on this beautiful eclipse. Plan your rituals around wherever and whatever needs to be healed in your body and mind and spirit.
The Aries Full Moon in September falls on September 27. It is a time to plan initiating rituals. While Mercury Retrograde is still occurring in Libra, I believe you can initiate things that have to do with things other than relationships. It is a good time to continue the thread of healing your body from the new moon in Virgo, as Aries rules sports and athleticism. Do something good for your body and health with this full moon! That is something that Aries and Virgo truly share in common.
Be good to yourself this month, and if you are also deeply, service-fully good to others—I think you'll find it a transformational and inspiring time. Be well!
Meditation
Free this month:
Virgo – Libra – Nurture Your Inner Child Guided Meditations!!
www.intuitivemoon.com – Check it out!
We can get reconnected after any dispersion. Some of our fears of being exposed, losing control, being torn apart, being infected by physical or non-physical viruses can convince us that we're fragile and that we need to control life and build protection around ourselves rather than surf through life's ocean of experiences. We become more and more safety-oriented rather than risk-oriented.
The truth is that we will always change and emerge with new biology and new states of being, even overnight. After sleeping, we are not even the same person, because our brains clear out all sorts of toxins we have accumulated.
I think there is a ton of beauty in comfort and the feeling of safety, especially when we need some time out and rest. How wonderful, then, to have a place to heal body and soul. When we look to nature for our comfort, we find answers that work for the human condition. In chronic conditions, for example, when we have daily practices that help us build relationships with nature we can find bird songs, the smell of pine growing, the process of gardens through the seasons, the taste of a banana or pear or wild blueberries in the morning—the soothing and restoration is palpable.
After as much healing as we need, and rushing is not necessary and healing is ongoing, life will let us know when it's time to reach out again like a plant reaches for the sun. We become more powerful than ever before after life has dispersed us. If you look back, you can see your resilience has brought you to new places time and time again.
That's why we can rest assured that any difficulty we encounter will lead us unconditionally toward a broader human experience. Leaning into our healing process can help us grow strong through acceptance and becoming more and more willing to change and become new.
Nourishment for the Body and Soul
Salsa for dinner is not uncommon in our house! You can pair this with rice if you like, but it is also great on its own.
Black Bean Shrimp Poblano Salsa
Yield: about 8 servings
Ingredients:
16 oz frozen cooked shrimp (tails off)
2 15 oz cans organic black beans
3 large poblano peppers
1 cup grape and/or cherry tomatoes
4 green onions
2 TBSP fresh cilantro
¼ cup pomegranate vinegar (or apple cider vinegar)
¼ cup olive oil
1.5 tsp cumin
¼ tsp salt
Directions:
Defrost shrimp in refrigerator or under cold tap water. Drain and chop in half.
Whisk vinegar, olive oil, cumin, and salt in a very large mixing bowl.
Add shrimp. Then add drained and rinsed black beans, chopped peppers, chopped onions, halved or chopped tomatoes, and chopped cilantro leaves.
Mix together with oil and vinegar from the bottom of the bowl and then serve immediately.
Serving suggestion: Serve with corn tortilla chips.
Nourishing Recommendations
You can learn so much about Tarot from Susyn Blair-Hunt, my wonderful mentor, in her book, Tarot Prediction & Divination, Unveiling 3 Layers of Meaning.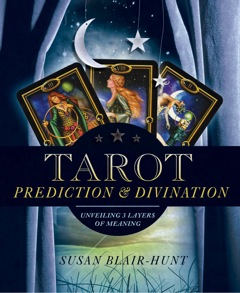 (Llewellyn also publishes the best selection of Tarot decks that I've discovered.)
---
Homeopathy and Core Synchronism have changed my life. First, I was immediately able to breathe after experiencing asthma-like symptoms for years. Many other improvements followed. Here are practitioners I recommend:
Eva Lipton-Ormand, CHoM, CCSP – in Albuquerque, NM
Elizabeth Battarbee of Flourish, Doctor of Homeopathy – available via Skype everywhere and in-person in Louisiana!
---
Elise Hensley, LISW, an amazing healer, specializing in EMDR and Neurofeedback. Elise is one of only a few people trained in Neurofeedback in our area. She is someone who is a skilled and amazing mentor. Better yet, your insurance may cover your sessions.
---
Thank you for enjoying this month's newsletter! You can contact me anytime via email: domikajama@gmail.com for consultations. Visit at Intuitivemoon.com.
Be well!
Blessings,
Dominique