This Month: Astrological Trends * Journeys (by Mary Oliver)

October 2016 Astrological Trends
With Venus in Scorpio, the New Moon in Libra (on September 30/October 1) may ask us to think about relationships in depth. We may see people or themes from the past appear, look into our sense of self-worth and our fears in a way that allows us to move forward powerfully after the Full Moon on October 16, and perhaps resolve some emotionally intense situations with partners. Love and money may be in the forefront through October 16th, when the Full Moon in Aries puts things into perspective. You'll be able to embrace both your own perspective and that of others after the middle of the month with your emotional and relational endeavors.
However, the Full Moon brings with it a lunar conjunction to Uranus in Aries along with the solar opposition to Uranus. Also, there is a conjunction of Mars to Pluto in the middle of the month at the same time as Mercury is square Pluto (October 15-17). The Sun squaring Pluto on October 3-10 kicks off the possibility of egos flaring up and ultimately needing to make major changes after destructive behavior or run-ins with authority. The cosmic setup of Mercury and Mars also interacting with Pluto means the themes of humbleness and rebirth, using power ethically, and facing our fear of death are likely to be triggered. This is a high alert time for us to ABSOLUTELY dismantle our impulse natures. We may feel everything from rushed to aggressive to passionate to lusty. The higher use of these possibly conflicting and overpowering urges is to channel them into something creative that we feel passionate about. We can receive endurance from Pluto and sudden insight from Uranus, so allowing life to shower us with these gifts is a better alternative than taking on the delusion that we are in control of ANYTHING on these days during the middle of the month. What is under your influence is how you manage the influences and events that occur—what occurs appears to be destined—so try to relax and ride it out. The ability to take various perspectives, a gift from the Libra New Moon process, will help in the midst of the external events through mid-to-late October.
Another major influence in October is the Neptune-North Node opposition. There could not be a more perfect color this year for October than Orange, with the North Node in Virgo opposing Neptune in Pisces all month, and its opposition aspect almost perfectly aligned on Halloween! It's a dialog with the heavens whispering to us to move forward with our industriousness and discrimination—to bring form to our beliefs and plans. As we near the time of the year when they say the veil to the other side thins, instead of feeling awash in the ocean of Pisces energy, we may find ourselves feeling more focused than ever as Neptune's divine essences are crystallized into form with laser-beam Virgo capacity. Now is the month when we can provide service without sacrifice, provided we slip out of our shadow expressions.
The shadow expressions of addiction, persecution (of self or others), sacrificing your own needs for others, allowing yourself to absorb more than you can, over-doing anything, failing to say no and set boundaries, and succumbing to fantasy are some of the things to avoid. Instead, hold your healing capacity lightly, enjoy your artistic endeavors, keep your kind nature in your back pocket—and hold the space for these easily/effortlessly. Allow this time of form-making to manifest itself without feeling you need to perfect anything or stay in control of it all. Let life do its work on you, and you participate where appropriate. The light touch and the happy heart will get you there fastest. Make few demands while putting in your work each day.
On October 20, Mercury Opposes Uranus. It's a day when the mind may speed up too fast, when it's good to pay special attention to slow down and listen to yourself and others. October 21, the Sun enters Scorpio, allowing focus to change from detached air energy (Libra) to oceanic water energy. You may feel a shift into a more emotional state. The couple days surrounding October 25 bring a square from Venus to Neptune, which can leave us feeling insecure about our looks and feeling low self-esteem. It's a great time to take the high road and find things that give us sensory delights. Nature, poetry, dance, creativity—a time to feel good about feeling good.
On October 30, the Sun, Moon, and Mercury align altogether in Scorpio and trine Neptune for a strong, lovely water sign energy that portends good things to come for the next few weeks. Water is a feminine, dreamy, and deep element. Sensitivity can increase and egos decrease. Emotions, empathy, imagination, and creativity are favored. Changes that involve communication and listening skills are in sync with the two weeks after October 30. Gain some much-needed ground now, after several difficult aspects during the Summer months. What can be gained is hope about the future, access to the higher mind, and setting new goals.
Halloween looks like a wonderful holiday, astrologically-speaking, this year!
Meditation
Guided audio meditations posted for free this month:
Scorpio and the Layers of the Onion Guided Meditation
---
Take Advantage of these while they are free this month!!
 Let me know what you think and if you want more in this series of wellness, relaxation, and healing. Send an email to domikajama@gmail.com.
---
 Nourishment for the Body and Soul
The Journey
by Mary Oliver

One day you finally knew

what you had to do, and began,

though the voices around you

kept shouting

their bad advice–

though the whole house

began to tremble

and you felt the old tug

at your ankles.

"Mend my life!"

each voice cried.

But you didn't stop.

You knew what you had to do,

though the wind pried

with its stiff fingers

at the very foundations,

though their melancholy

was terrible.

It was already late

enough, and a wild night,

and the road full of fallen

branches and stones.

But little by little,

as you left their voices behind,

the stars began to burn

through the sheets of clouds,

and there was a new voice

which you slowly

recognized as your own,

that kept you company

as you strode deeper and deeper

into the world,

determined to do

the only thing you could do–

determined to save

the only life you could save.
---
Nourishing Recommendations
You can learn so much about Tarot from Susyn Blair-Hunt, my wonderful mentor, in her book, Tarot Prediction & Divination, Unveiling 3 Layers of Meaning.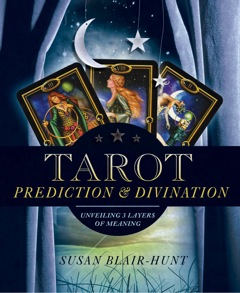 (Llewellyn also publishes the best selection of Tarot decks that I've discovered.)
---
Homeopathy and Core Synchronism have changed my life. First, I was immediately able to breathe after experiencing asthma-like symptoms for years. Many other improvements followed. Here are practitioners I recommend:
Eva Lipton-Ormand, CHoM, CCSP – in Albuquerque, NM
Elizabeth Battarbee of Flourish, Doctor of Homeopathy – available via Skype everywhere and in-person in Louisiana!
---
Elise Hensley, LISW, an amazing healer, specializing in EMDR and Neurofeedback. Elise is one of only a few people trained in Neurofeedback in our area. She is someone who is a skilled and amazing mentor. Better yet, your insurance may cover your sessions.
---
Thank you for enjoying this month's newsletter! You can contact me anytime via email: domikajama@gmail.com for consultations. Visit at Intuitivemoon.com.
Be well!
Blessings,
Dominique