This Month: Astrological Trends * Nourishing Recommendations

September 2017 Astrological Trends
Leo Mars and Mercury in conjunction trining Uranus in Aries straight out of the shoot in September provides explosive energy to take advantage of for creative initiative. Brilliant starts are available from both your brain and heart if you pick up whatever medium you're famous for—paint, clay, the written word, music, photography, the dramatic arts, social arrangement, architecture, botany, dancing, textiles, insert-your-art-here… The key is you will have to consciously put in the effort as it's a trine. Use the first five days in September (especially September 2 when the aspect is exact) to focus on starting a creative project. Dream big dreams! They can manifest.
Avoid impatience and channel energy instead into open-mindedness. People's peculiarities can come to be the things that teach us the most about ourselves, in the long run. Allow yourself to contain your impulses for something of your better angels.
Last month, there was a note about calling upon and developing spiritual practices for use in late August and early September, and this should be restated here. Keep using your connection to Spirit and to Life / God / Universe to attend to your inner world's hygiene. It's simply too easy to slip and slide, so instead keep connected to the "power greater than yourself." Attend to signs and dialogs with life and notice when you are in and out of flow. Humbly allow for the fact that our personalities, egos and intellects are not really in charge. Feel feelings and let them pass like the weather. Hold on to nothing on the material level and instead hold to a higher level. Remember that there is something beyond or before or beneath the form of the things you see and feel.
You may need to work to believe in yourself a bit, because the Virgo Sun/Pisces Retrograde Neptune opposition is occurring. Neptune's effect on your core energy may have you reeling as you puzzle out what you think is rational and try to organize life. With this polarity in a conflicting aspect, you may wonder about or be inundated with practical matters. It will be hard to focus on creativity or spiritual insight if this is the case, and the Sun takes center stage for you. If so, keep a recorder or small journal handy to write down your flashes of insight to follow up on when you're free.
The important things to be clear about during Sun-Neptune oppositions: steer clear of things that appear too good to be true. Quick fixes such as fly-by-night relationships, substances that make you feel relief, bad habits that weaken your immune system (such as missing sleep), and believing your negative thoughts. People can be prone to deception so protect yourself and keep your wallet closed until around September 10.
Instead of shopping, take up a new deep breathing activity. Take sixteen or twenty deep breaths. When you exhale, focus on pushing your belly button back toward your spine as far as you can to empty your lungs. When you inhale, inhale all the way down into your lower belly instead of taking shallow breaths. Let the opposition be about synthesizing the Sun and Neptune like breathing synthesizes the inhale and the exhale. Allow opposites like beginnings and endings to find their center within you. Pause in that center. Our existence is so much about realizing and managing the pause in the flow of duality, even when we're unaware.
Even more emotional intensity lights up our lives on the Full Moon September 6. Watch for such sensitivity to others that you can pick up a virus—be it physical or non-physical. I might sit out this Full Moon if possible. It doesn't look so possible from this Astrologer's stand point, so suggestions are to practice kindness and gentleness, go slowly, and allow yourself to do only your own life. Definitely avoid meddling in anyone else's business on this day. You'll probably have enough of your own to attend to. It's a day to give hugs of encouragement instead of advice. Get lots of sleep.
Practicality and reality are returning. Until they do, perspective, except on a canvas or in a fantasy, will simply be difficult to come by. They begin to return as Mars enters Virgo on September 5. Actions will become more methodical and intellectual instead of creative and heartfelt. The accountant shall conquer the king, metaphorically speaking.
Mercury turns direct on September 5 at 28 degrees Leo and then enters Virgo on September 10. This supplements the Virgo domain becoming predominant in the energies surrounding us.
The Sun is in on the same energy wave, also. The Sun in Virgo trines Pluto in Capricorn from September 6-11 (exact on the 8th). This is a time to focus on the depth of investigation. You're looking for complete understanding, personal transformation, relational revolution with systems or people in power. You can clean up outstanding issues or resolve problems during this period.
Immediately following this, is the Sun squaring Saturn while Venus trines Saturn. What a mixed bag the dates of September 11-15 will be. It's in conjunction with the North Node's long-term square to Saturn, as well. If you have passed Saturn's tests of ethics, it may be a great time to propose marriage or take the next steps to solidify a relationship long-term. You may meet someone who would be a great partner (and it may be someone whose age is different than yours—significantly older or younger). If we have been faithful and ethical, we may see rewards at this time. Saturn may tell us we have "passed our test" in some manifest way.
Alternatively, if you're having trouble with procrastination or you have outstanding issues with ethical dilemmas in your life, this may be the time life brings these issues to a head for you and you can no longer ignore them. If you haven't done the inner work, the outer world can do works on your behalf.
Venus keeps this Astrologer guessing with a sextile to Jupiter September 11-18 and a trine to Uranus September 14-19. During this mid-September time period, romance is in the air. These are both aspects you need to consciously pick up on—you use the available energy—it doesn't use you. With Jupiter, there is a sweet and expansive vibe. Your love grows, you could travel, both in the sense of physically or in the sense of metaphorically to a new place in your love connection. With Uranus, the unexpected happens. Anything from a brilliant new love passion that runs itself out quickly—to even an unexpected affair that is damaging to your life! Be careful, but also, be available for the good stuff, too. Venus can also rule creative and financial realms, so you may develop relationships or projects in those arenas as well. Since the Mercury/Mars conjunction also opposes Neptune at this time (causing mental confusion/noise), I'd recommend you put off making any financial decisions or major relationship decisions until after this aspect passes on about October 3. (Overall, September is looking like a rather frugal month.)
This brings us to the New Moon on September 20, and it's the New Moon in—you guessed it—Virgo. This New Moon, and the definition of a New Moon is that it sits in conjunction to the Sun, is in opposition to Chiron. (So Moon/Sun are both in opposition to Chiron). This means you can experience some very intense feelings about core identity issues. Processing these things could involve everything from depression, loss of confidence, a sense of permanent change, a sense of victimization or scapegoating (or the desire to do so to others), the projection of inferiority onto other people, or a sense of weakness. I know we have some major surgery scheduled in our family on September 21, for example, so we will be facing major life changes at that time, along with you. It's simply written in the stars, and for us, its external circumstances coming to bear. Of course, there is always a little fear with a surgery but hopefully more faith that afterwards there will be relief and healing. Chiron brings both—healing and distress.  You may be facing something current that is changing or something from the past. With a New Moon, especially after an eclipse, it is a good time to embark upon change.
September 23-26, Mercury squares Saturn, so it would be a great time to study independently or seek the advice of an expert. It's a tough time for communicating with others. This will be a little difficult for us due to the Jupiter-Uranus opposition hitting its exact placement once again. It's a long-term aspect that comes into exact aspect a few times during 2016 and 2017, and September 28 is the last of the three times of its exact opposition. Jupiter in Libra is the teacher asking for an expansion of humanitarianism and diplomacy based on value systems while Uranus in Aries is providing unexpected initiatives, spontaneity, and breakdowns of old structures to make way for the new. People are keen to change things in the world and see no reason to continue things as they currently stand. They want to speak out against injustice and lack patience and persistence to see changes through with this aspect.
Coincidentally, September 28 is also when Pluto turns direct after being retrograde since April. This means we can start to think about moving forward with our personal transformations in a faster way instead of purging and reflecting upon what needs to change. October will probably be a more active time for that, since Venus moves into opposition with Neptune and Mercury moves into opposition with Chiron at the tail end of September, reminding us to keep our wits about us yet again in financial and relationship matters. If you are feeling grief, allow yourself to feel your feelings. Maybe you want to get outside of your thoughts for a bit. Perhaps go to a mystery or ghost movie on September 29-30, instead of inviting one into your personal life.
Contact Me!
 Let me know what you think! Send an email to domikajama@gmail.com.
---
Nourishing Recommendations
You can learn so much about Tarot from Susyn Blair-Hunt, my wonderful mentor, in her book, Tarot Prediction & Divination, Unveiling 3 Layers of Meaning.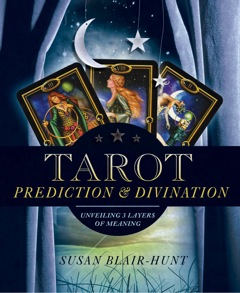 (Llewellyn also publishes the best selection of Tarot decks that I've discovered.)
---
Homeopathy and Core Synchronism have changed my life. First, I was immediately able to breathe after experiencing asthma-like symptoms for years. Many other improvements followed. Here are practitioners I recommend:
Eva Lipton-Ormand, CHoM, CCSP – in Albuquerque, NM
Elizabeth Battarbee of Flourish, Doctor of Homeopathy – available via Skype everywhere and in-person in Louisiana!
---
Elise Hensley, LISW, an amazing healer, specializing in EMDR and Neurofeedback. Elise is one of only a few people trained in Neurofeedback in our area. She is someone who is a skilled and amazing mentor. Better yet, your insurance may cover your sessions.
---
Thank you for enjoying this month's newsletter! You can contact me anytime via email: domikajama@gmail.com for consultations. Visit at Intuitivemoon.com.
Be well!
Blessings,
Dominique