This Month: Astrological Trends * Nourishing Recommendations

December 2017 Astrological Trends
From November's Peek into December:
Pluto in Capricorn inconjunct North Node in Leo occurs November 26 – December 21 (exact December 10). This is fission-time in our collective destiny. The North Node is the pointer to our destiny, and Pluto shows us where we need to relinquish control. We will feel that there is something we should be doing, but in the fires burning all around us, and the feeling that we ourselves are being consumed by the changes occurring, too, we likely can't see what it is we're supposed to do. It's time to relax and let the old life burn away. The best we can do is be here, show up, be a human being. Life will lead us—and our delusion that we control things will be revealed to be just that—a delusion. (We can look to the year 2020 as the year when things will straighten out again, just to give you a timeline of sorts.) Currently, the Scorpio energy can whisper to us that we are living the phoenix myth—that what gets burned will rise from the ashes. Have faith that we needn't clean things up right now or attempt to put things together yet. This is the fire stage. We can do our best to do the tasks that are in front of us and keep our focus simple and easy. We are one small part in a larger drama. The North Node asks us to focus on our hearts and keep in touch with joy and our own individual passions in order to do the best healing at this time. Returning to our own hearts and keeping an eye on the universe's timeline can provide a sense of relief through the existential dramas emerging with Pluto's transformations of systems and governments. Both Aquarius and Leo, where the nodes are located, are fixed signs, and it's difficult to deal with the changes of Pluto's Capricorn, cardinal upheaval. But one thing that is steady is the ability to center one's heart on the beauty of the human experience. One thing that is certain—no matter what laws or abstract ideas humans make—nature's laws are greater and bigger. When we attune to nature, we can feel the pulse of reality.
It's a Full Moon as December opens, yet a dark night of the soul energetically. Astrology shows several challenging influences which I'll list in a moment, but I want to point to Jupiter in Scorpio trine Neptune in Pisces as the beneficial aspect to use to ameliorate these winter anxieties. There has never been a better time to tap into or develop your inner mentor and teacher, as both travelers ask us to seek for truth-telling and to plumb the depths of reality. Water signs give us spirituality, the ocean, the ability to transform, sensitivity, psychic connections, a sense of oneness, waves of energy, collective union, flexible strength that knows how to find its way, the archetypical "waterfall" which cleanses from us negative energies, and other mystical abilities. Allow yourself some retreat and isolation to get your individual self in alignment with your highest purpose so you're a beacon of strength and honor as the month progresses.
You needn't say much as you let your spiritual alignment do the moving and talking for you. Call upon what you believe in for help instead of relying upon the forms around you, because those forms are disintegrating. Trust and have faith that as they are washed away, new forms will emerge. You can be part of building the new forms.
Be thinking seriously about new philosophies that will serve the future based upon what you know from history. It's a good time to study deeply what has succeeded or failed before in whatever realm your work and destiny take you. You can't ignore the past, but it is time to restructure many systems. It is not time, however, to exploit others or allow anyone to be disregarded during Pluto's "rebuild." It's easy to see how tempting it is (as Mars opposes Uranus November 28-December 4) for the "haves" to take advantage of the "have-nots." Saturn, ultimately, will have none of that. As we see the aspects of Mercury Retrograde in Gemini (December 3) work in conjunction with the Full Moon in Gemini (December 3) and Mercury conjunct Saturn (exact December 6—after the first time on November 28) during the first week in December, the serious nature of the mental work being asked of us is revealed. There's a tender curriculum where Saturn tells us with these aspects that our mental hygiene is foremost now. We should take an in-depth approach using positive psychology techniques. It's time to focus on important tasks and make breakthroughs. Do the things you thought you would never do. Use common sense. Go ahead and make long-term plans. Keep your word. Practice honor and integrity. Slips are verboten at this time. I hope you have your game face on, your habits intact, your commitments ready. Discussions can lead to surprising results. Take the high road.
There are Mars aspects in the mix as well, which means that actions are possible to follow up on your ideas. A little extra effort and honesty may be the push you need during the first week or two in December.
December 7 – 12 is a particularly interesting time for Venusian activation. A square from Sagittarian Venus to Pisces Neptune means that there is ballooning tension around issues of trust in relationships and self-trust as well. Our addiction issues are likely to present themselves. If relationships include conflicts, look for them to emerge. Remain conscious that these days include these mirages and remain steadfast beneath them. The Sun in Sagittarius trine the North Node in Leo (touched by the Moon in Leo on the 7th, too) from December 7-11 suggests it is destiny at work asking us to look toward bigger and better things than what we now see. Let go of your tendencies to over-idealize, to get depressed, to fear and to hold yourself apart from others with the belief that you don't belong. We all belong by the very fact that we exist. Distortions are running rampant and sometimes, feeling sensitive. These days it would be wise to defer making any commitments and to avoid any situations where you feel your self-esteem is taking a hit. It seems you'd be too vulnerable by reaching for negative habits such as learned helplessness. Instead use critical thinking skills to plan for intellectual activities and practice strong boundary setting.
Your ability to think things through should remain strong during mid-month as the Sun conjuncts Mercury December 11-13. So, what is favored over emotional acts are clearing out the paperwork and bills that have piled up, or finding bargains and business deals. Education, sibling interaction, short distance travel, details, and communications such as writing are something to flow with. Things that spark curiosity and get you conversing (self-expression but not deep conversations) are supported.
The Sun also sits in trine aspect to Uranus from December 12th-18th. You may find yourself feeling more confident about the flashes of insight that move through you and inspire you to try something new. New adventures, new inventions, unique ways of understanding—all may lead you to some brilliant humanistic ways of processing and understanding the world. In her book, Big Magic, Elizabeth Gilbert writes about how ideas are actually invisible life forms looking to partner with humans to bring creative matter into being. That's why sometimes the same idea occurs to two different people—it's an idea looking for its human partner. Sometimes, humans are able to vibe with ideas and together new things emerge into our reality. Sun Trine Uranus seems like fertile birthing ground for that partnership to occur.
Mercury then conjuncts Venus in Sagittarius (14th-16th) mid-month—even the Moon joins them in Sagittarius on the 16th, and December's best time for loving interactions occurs. Displays of love are encouraged on these days. Venus is also in trine aspect to the North Node from December 13-16. This is a karmic or destiny aspect pointing toward childbirth and baby showers, weddings, and other familial attachments. It often is associated with social events for women.
Diplomacy, pattern recognition, poetry, and melodies help you express creativity and magic. Showing appreciation, even if it is not romantic love, can go a long way in relationships. You may also receive appreciation. You may make new friends. You can be confident about signing contracts. Social interactions should be enjoyable and financial interactions should be fruitful. It's a good time to ask someone on a date or ask for a favor. With Mercury retrograde, you may be revisiting old friendships.
The New Moon in Sagittarius on December 18 features another Saturn conjunction. Saturn is a very big player this month. I think the universe would like us to focus on ethics and Saturn would like to highlight the fact that it is moving from Sagittarius, which is somewhat of a shadow expression of Saturn (Sagittarius is the 12th house to Saturn's home sign on Capricorn) to Capricorn. This New Moon is the last shadow Saturn aspect. It's a chance to review the past few years of instructional material. How have you been coping with integrating the Saturn responsibilities that have been awakened for you? It's likely none of us have escaped our own shadows. They travel beside us everywhere the light shines upon us. Sometimes they surprise us when our unconscious strengths and weaknesses come to bear. When the time to change is at hand, it's a good time to accept responsibility—and at that time there's no greater friend than Saturn—who helps us slow down long enough to observe everything about ourselves.
The New Moon / Sun duo is also loosely square Chiron is Pisces. It is more argument for the question of have you put water on the fire of your wounds? Have you attended to the places where the real pain exists in your life or are you denying anything that you need to change about your life. The signs are everywhere that this is the transition to a new way of life for us, so allowing the change to occur means getting into the issues we've been denying for… forever. Acknowledging sooner rather than later will serve you (and me and everyone—none of us are alone) very well.  This is an Astrologer's urging to go ahead and do your work. Heck, you probably already are.
Saturn returns home to its own sign of Capricorn on the night of December 19. Saturn will be in Capricorn through March of the year 2020. Capricorn covers the areas of political systems, adulthood, the public, authorities, parents, responsibility, rules, and structures of all sorts.
Venus trine Uranus December 18-22 offers you a time of exploration and playfulness. These are days for creativity, taking a chance, music, craft, meeting a new romantic partner, holding a holiday celebration (even out of the blue!), setting off without a definite plan, exploring a new culture, and breaking out of your routine in some way.
December 21st through 23rd, the Sun moves into Capricorn and is conjunct Saturn in Capricorn. These are great days for Space Clearing. This is a process of uncluttering and moving positive energy through your physical environment. Attending to your own body's energy is also indicated. Think about simplifying and also consider what your life may look like in the new year. What can you shed and what will you hold onto? Look at a systematic evaluation of your life.
Mercury turns direct on December 22. As it moves forward to retrace the steps it took backward in the zodiac, you may encounter outlier thoughts swirling around. This distorted view of life may confuse you and scare you if it includes some of the things we see now—strange religious views and violent/aggressive group ideologies. Avoid rationalizing (thinking things to make what someone says better in your mind as if it will all be OK), lying to yourself or others (even a little bit), or convoluted cover-ups to protect people. Those who trade in fear instead of love and exploit others for power are in the midst of the same ethical tests we all are. On January 10, 2018, Mercury will leave the "retrograde area" and move past the degree where its December retrograde began. It's at this time we will see rhetoric clarified.  If you have personal confusion emerge related to Mercury's movements, it should also clear. This could also be read as family situations that emerge over the holidays that clear up by mid-January. Make sure not to allow yourself to ingest confusion during holiday gatherings. Wait and see instead.
It's beginning to look a lot like a practical Christmas… with Venus moving into Capricorn and conjunct Saturn and the Sun on December 25th. Any bargains would have been possible earlier in the month. Avoid last minute shopping this year, if possible. Be the planner. Venus-Saturn conjunctions (hey—this is a heavy influence in my chart so I know of this one!) speak to karmic lessons. Relationship tests of distance/separation/inability to connect may come up for the holiday, so let yourself pass the test with flying colors. Guilt or disloyalty could be the root of the problems, or it may be that people find it difficult to express love and affection. If you get the cold shoulder, sarcasm, awkward remarks—let them drop. It looks like people won't have their best foot forward. In fact, they may be eating their foot for dinner. It seems like a serious time rather than a frivolous time. You may wish to plan a more serious gathering. Even a savings account for youngsters may be the type of gift to consider under this influence, as it attends to the relational and financial issues involved in a Venus-Saturn connection. For those who have already planned gifts, however, simply keeping your exertions modest and honest and heartfelt with little fanfare seems wise. Know that inside people's hearts are in the right place and they appreciate every gesture even if they have trouble expressing it this year.
Mars trine Neptune December 22 – January 1 (exact on December 28th) provides this advice: dance like everyone is watching. Music, dance, sculpture, and any physical creative outlet is suggested at month's end. Let yourself flow with the vibration of this transit and allow it to burn through your nervous system to help relax after a big month! This is also an aspect of advocacy, passion, and charm. Use kindness and ethics to win during this time.
December 28 – January 1, Mercury in Sagittarius trines the North Node in Leo. This leads one to believe debates on philosophy are likely, or agreements, thoughts, and movement on issues surrounding children or young people.
____________________________________
Contact Me!
 Let me know what you think! Send an email to domikajama@gmail.com.
---
Nourishing Recommendations
You can learn so much about Tarot from Susyn Blair-Hunt, my wonderful mentor, in her book, Tarot Prediction & Divination, Unveiling 3 Layers of Meaning.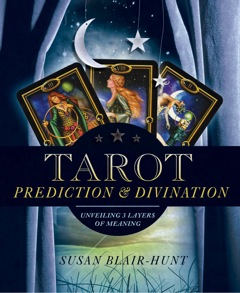 (Llewellyn also publishes the best selection of Tarot decks that I've discovered.)
---
Homeopathy and Core Synchronism have changed my life. First, I was immediately able to breathe after experiencing asthma-like symptoms for years. Many other improvements followed. Here are practitioners I recommend:
Eva Lipton-Ormand, CHoM, CCSP – in Albuquerque, NM
Elizabeth Battarbee of Flourish, Doctor of Homeopathy – available via Skype everywhere and in-person in Louisiana!
---
Elise Hensley, LISW, an amazing healer, specializing in EMDR and Neurofeedback. Elise is one of only a few people trained in Neurofeedback in our area. She is someone who is a skilled and amazing mentor. Better yet, your insurance may cover your sessions.
---
Thank you for enjoying this month's newsletter! You can contact me anytime via email: domikajama@gmail.com for consultations. Visit at Intuitivemoon.com.
Be well!
Blessings,
Dominique