This Month: Astrological Trends * Nourishing Recommendations

January 2018 Astrological Trends
Uranus stations direct on New Year's Day and resumes forward motion on January 2. There are no retrograde planets until March 9, when Jupiter turns retrograde in Scorpio, and March 22, when Mercury turns retrograde in Aries. This means the time for reflection is over. It's time to move confidently into new projects and new territory; to act creatively and boldly. Taking chances or making changes is ok with the heavens. Things can move forward now. You may find you get the green light and blocks are no longer there.
In fact, January has so much astrological activity and so many aspects, it's rather remarkable. Let's just begin with Mars and Jupiter and allow the story to tell itself from there! I'll start sections with the technical information and then give you the interpretations.
Mars is conjunct Jupiter in Scorpio 1-1 (exact 1-5/1-6) to 1-12. Mars in Scorpio trines Neptune in Pisces 1-1 and 1-2, and in fact forms a grand trine with the Moon on New Year's Day. Mars squares the North Node in Leo 1-1 (exact 1-3/1-4) to 1-8. Jupiter squares the North Node 1-1 to 1-15. This looks like a large amount of good fortune underneath a veil of overexuberance. You could easily go too far or party too hard, but at that party you may meet the person of your dreams. You may be over confident, but you're on the right project. Try to keep your wits about you but also go for it—whatever your "it" is. Scorpio lets us know this is probably an all-or-nothing type of time for most people. Especially if your endeavors involve physical exertion or a sporting activity—this is favored as that is Mars's domain—and also Mars is exalted in Scorpio. Life here is asking you, with compassion in its voice (Neptune) to make a commitment to the future (North Node square) or choose consciously to stay stuck in the fringes and in past habits (South Node square). It's time to accept once and for all there's only forward (no turning back, in other words).
The Full Moon on the night between January 1-2 is a wolf moon in a kite pattern.  The Moon is at 11 degrees cancer and in addition to opposing the Sun, the Moon opposes Venus. This points to tension in integration our instincts with our need to interact. We may want to stay home with the Moon in Cancer, but the world is calling, with Venus in demanding Capricorn. The internal/external, Yin/Yang, mother/child, or any duality that arises for you may need to be worked out using the many astrological energies discussed herein—Mars, the Sun, Neptune, Jupiter, and Pluto.
Sun sextile Neptune 1-1 to 1-4. This aspect provides a boost of psychic energy and spiritual support. Serving groups and individuals with empathy and compassion is favored. Venus sextile Neptune 1-1 (exact 1-2) to 1-5. This provides a window of opportunity to attract a spiritual partner or soul-mate type person. Neptune/Venus combinations such as this are good times for film, photography, and images. If you want to shop for clothes, cosmetics, jewelry, decorations, etc., they will help you creatively express yourself. Romance is highly suggested, and it's also a good time for friendship.
Mercury in Sagittarius trine Uranus in Aries 1-3 (exact 1-6) to 1-8. This brings many possibilities, and adds more fire power to the psychic energy surrounding the start of January. Mercury/Uranus effects are electrifying and thinking-based, feeling like sudden brilliance or insight. It's a time of study and you may find you're talking astrology, electronics, or Web sites. Communications, technical subjects, games, and puzzle-solving are the realms of these planets. On 1-4, there's a fire grand trine with the Moon in Leo. This can add instinct and a sense of playfulness to the mix.
Mercury also squares Chiron in Pisces on 1-3 (exact 1-6) to 1-8. Something may arise that you need to learn from the emotional baggage you're carrying. Or, you may find a wound is made—emotional or intellectual—that you need to heal from. Pondering your difficulties may be occurring for you, however.
Venus conjunct Sun January 1 (exact 1-6 to 1-9) to 1-18 and conjunct Pluto January 5 (exact 1-9) to 1-12. Sun and Venus conjunct Pluto for an exact 3 planet stellum on 1-9; Sun conjunct Pluto 1-5 to 1-11; Venus conjunct Pluto 1-5 to 1-12. This is a very interesting and intense planetary stellum! First, the Sun and Venus together point to a harmonious time when it's entirely possible to meet new lovers and friends, or to have a beautiful time in relationships. It's also a time when finances or creativity may be particularly great. With Pluto, however, the plot thickens to include karmic and fateful encounters. Pluto asks us to use our personal and social power wisely. For example, if we are married, Pluto says—if you meet someone attractive, by all means avoid having an affair now. It will have dire consequences. That goes for any cheating, lying, or criminalizing. (Just because Saturn is quiet this month—don't think Pluto does not have Saturn's back!) Pluto says, however, if you are single, you may meet the person you are destined to be with at this time and feel the most powerful attraction you have ever known! Go for it! Pluto may help you uncover the dynamics beneath harmful relationships at this time and provide the means to exit a relationship. Pluto may provide positive transformation as you peer into the soul of your beloved and you see the gold underneath a rough surface. Most people and relationships are likely not black and white like that, so you'll probably see much more complex dynamics underneath. It's about evolution. I'm curious to see how the planets will provide you with evolution during and beyond January after Pluto, Venus, and the Sun have their meeting in structure-changing Capricorn.
The stellum also sextiles a Mars/Jupiter conjunction in Scorpio. On January 9, the Stellum forms an exact sextile to Mars in Scorpio, sitting one degree away from Jupiter, and there is a loose square to Uranus in Aries. Also, the Moon opposes Uranus in the morning while it's in Aquarius and then meets up with Mars in Scorpio on that night. There is motherhood in the air, even unexpected motherhood! Those dates provide particularly strong points of influence for the energies described below.
Sun in Capricorn sextiles Mars in Scorpio 1-2 (exact 1-9) to 1-17. Vitality and health will be brimming over during the first half of January. You will have energy, so go for your dreams! Instead of letting these days pass by, use the energy to make progress on the things you have been blocked from starting or doing for so long. Be assertive. Venus sextiles Mars in Scorpio 1-4 (exact 1-9) to 1-13. This is the ideal time for romance and dating, adding more fuel to the fire to make the case for a lot of relationships forming or getting stronger during January!
The Sun sextiles Jupiter in Scorpio 1-4 (exact 1-8) to 1-10. This is one of the most beneficial aspects in astrology, so use it to start the projects you have been wanting to start for so long. Whether you believe in destiny or fate, why not give astrological timing a try and see if it works out for you?  The aspect is supposed to bring happiness, luck, and optimism. With the Sun in the earth sign of Capricorn, starting something you want to bring to life seems appropriate. Venus sextile Jupiter in Scorpio 1-5 (exact 1-8) to 1-11. This is a time to avoid eating too much but to go ahead and give as much support as you would like to others. You may also be the recipient of support. Charisma and charm abound as relationships blossom during the meeting of the two benefics in the sky. Both friendship and romance see great affections.
Mercury conjunct Saturn on 1-10 (exact 1-12) to 1-14. Critical thinking capabilities come back on line after many days of less intellectual focus. Attention to detail may return, even though positive thinking is recommended. It's a good time to attend to the things during the month that require concentration.
Venus square Uranus comes into focus 1-10 (exact 1-13) to 1-15. Avoid impulse buys and having an affair. Go to a new movie instead or enjoy some entertainment. This aspect brings with it a sense of needing something novel. Sun square Uranus occurs 1-11 (exact 1-14) to 1-17. Avoid tinkering with electronics and anxiety if you can. Open your mind and become flexible as you watch things change around you. Ego problems could get the best of people as everyone wants to do things their own way. Address your bad habits, addictive tendencies, and feel free to try out a new appearance.
Venus and the Sun in Capricorn sextile Chiron. The sun from 1-10 (exact 1-13) to 1-15 and Venus 1-11 (exact 1-14) to 1-17. There's a possible healing the needs to take place and the beginning of the month provides an opportunity for you to do so. This is in the area of your values, and you can do this on a structural level as the Sun and Venus are in Capricorn. You can look at the systems in place in your life or get some body work. You can take a class on healing to learn new methods, for example.
Mercury moves into Capricorn on 1-11. Precision and single-minded thinking is possible again through the end of January as Mercury moves through a very practical earth sign. Watch out for rigid thinking, but welcome the ability for methodical and practical intellectual activity.
Jupiter in Scorpio is sextile Pluto in Capricorn through February 9, but exact in January on the 14-20. Positive change is occurring and many people are helping others. Perhaps you are an agent in helping people to advance during this time. If so, you can relish your role in making the world a better place. Many opportunities exist to place people in positions they need to transform environments for the better as change occurs throughout the world's systems. Empowerment is the theme of this transit.
Mars in Scorpio trine Chiron in Pisces 1-12 (exact 1-18/1-19) to 1-23. What a chance to take healing action using the water sign energy of Scorpio and Pisces. You must take charge and do something, as a trine can go by with nothing happening if you do nothing. Take charge and boost your healing during these days.
New Moon in Capricorn January 16 at 26 degrees. Moon squares Uranus in Aries. Moon sextiles Mars in Scorpio. Moon sextiles Chiron in Pisces, Moon conjuncts Venus and Sun in Capricorn. There are actually 6 planets in Capricorn on this day. If you can stay home, I'd recommend it. By the next day, Aquarius energy will enter the picture, but for this New Moon day, it is a lot of earth with one tough link to unexpected Uranus. Otherwise, focus on building something and keep quiet and contemplative on the dark of the New Moon day and night. It's the onetime of January I might keep quiet and keep my own counsel. A good day for a deep pause.
Venus moves into Aquarius on 1-17. Friendship can begin to feel just as important as romance—which could actually be a welcome break after a very romantic start to the year! Venus in Aquarius themes are fairness, loyalty, and independence.
Mercury in Capricorn sextile Neptune in Pisces 1-17 (exact 1-19) to 1-21. This is an excellent time for meditation, relaxation, and creativity. You can tune into ideas through your senses and through spirituality. You can sooth yourself and others, and intuition is high. However, study and intellectual activities are not the focus. Instead, write romance and fantasy stories or use your imagination for creative visualization. Music and vivid dreams are also indicated.
The time when these energies are peaking is during a yod configuration, which is a point of destiny. This Occurs on 1-20 and is made up of 2 quincunx aspects and the Mercury/Neptune sextile. Neptune in Pisces quincunxes the North Node in Leo 1-17 (exact 2-24 to 3-5) to 3-17. On 1-20, the Moon is conjunct with Neptune and the second yod is formed with Mercury in Capricorn pointing toward the North Node.
Sun moves into Aquarius on 1-19. You may star to feel where your constrictions are. The need for freedom is very real when the Aquarius phase is nigh. Make sure to give yourself enough space to breathe and feel free to innovate and try some new things this month. A new perspective, socializing, and an equal playing field are important considerations.
Mercury in Capricorn conjunct Pluto 1-22 (exact 1-24) to 1-27. This indicates in-depth thinking. It could mean discoveries, psychology, spiritual experiences such as transcendence and communicating with ancestors, and investigations. On the negative side, it can mean deception, addiction, criminality, and abuse of power.  Also, Mercury sextiles Jupiter in Scorpio 1-22 (exact 1-24) to 1-26. This links your mindset to thinking and planning about the future. It will be a good time to visualize. It will be favorable for learning and concentrating. Jupiter rules travel, so trips also look favorable during these days.
Mars moves into Sagittarius om 1-26. On this day, the Moon moves into an opposition with Mars and Venus in Aquarius oppose the North Node in Leo (1-26 to 2-1, being exact 1-30). We may be on the hunt for our ideal situations all of a sudden. It's easy to see the large picture with Mars in Sagittarius while it's a little harder to follow through on the dreams that we so easily dream. Try to provide yourself with some realistic adventures to quell your wanderlust. The Moon may mean a bit of tension between needing peace and quiet vs. adventure. A joyful consistency is important, which is why it's recommended to combine your need for adventure with joyful realism.
Mercury in Capricorn square Uranus in Aries 1-25 to 1-30 (exact 1-27). The things to be aware of with this stress aspect are missed pieces of information, missed communications, and nerves. A little extra planning will help you tremendously on these days. On the bright side, you may come up with some new perspectives and brilliant breakthroughs all of a sudden.
Mercury in Capricorn sextile Chiron in Pisces 1-26 (exact 1-28) to 1-30. There is a lot of support for healing this month, and this is another aspect providing mental clarity for analyzing how to make a situation better.
The Full Moon Lunar Eclipse at 11 degrees Leo occurs on 1-31. Its effects can last for up to the next three months, even though its occurrence falls on this last day of January. Eclipses are powerful change agents. This is what's called a blue moon, because it's the second full moon in January. The Moon is conjunct North Node and the minor planet Ceres while the Sun sits Conjunct Venus. There is also a Moon quincunx, aka inconjunct, Neptune aspect. While I usually don't mention minor planets or inconjunct aspects, in this case they both point the fact that this eclipse is calling in almost every feminine energy in the astrological catalogue to converse with us. We are asked to look to the North Node concept of taking this point of destiny to nurture our better angels and play out the drama of voicing and standing up for what is collectively right for the "family" as a mother would. We need to embody the role of mother as the Moon would. Venus sits with the South Node and the Sun, which both point toward the more selfish and self-aggrandizing instincts. The opposition aspect involves integration work, and can help to find the central space of all planets involved where their energies surrender to evolution. The South Node sits where we have been comfortable and where we need to let go of old habits. The North Node sits where we are being called to our future destiny. The mother nurtures and sacrifices and is gentle. The mother is patient and kind and caring. There is compassion and thoughtfulness in a mothering archetype. There is warmth and a feeling that everyone matters—it is a feeling of family. Venusian glamor is not the feminine archetype that is exalted at this time. Adjustments are needed, according to the Neptune influence. Ceres is propping up the Moon, providing a sense that there is strength to planting and nurturing seeds that can be sown now. The divine feminine has a lot of support from the heavens now. In Leo, which is all about the art of nurturing children as well, and provides a space for the sun's energies to be integrated with the moon's, a story unfolds and a joyful future emerges. A woman writing, speaking, working, and pondering on these themes may find herself empowered, indeed.
Mercury moves into Aquarius on 1-31. This gives focus to fixed mental energy. Aquarius is a humanitarian sign and offers a good deal of brilliant mental potential. You may feel your mind speed up as Mercury feels comfortable in a fellow air sign, such as its home sign of Gemini.  Mercury sextiles Mars in Sagittarius from 1-31 to 2-6. The mind and body find alignment and you feel full of charisma and ability. A lot can get done in this week. It's a good time to ask for something you want—whether it be personal (asking someone on a date) or business. It's a good time to attend to worldly matters.
____________________________________
Contact Me!
 Let me know what you think! Send an email to domikajama@gmail.com.
---
Nourishing Recommendations
You can learn so much about Tarot from Susyn Blair-Hunt, my wonderful mentor, in her book, Tarot Prediction & Divination, Unveiling 3 Layers of Meaning.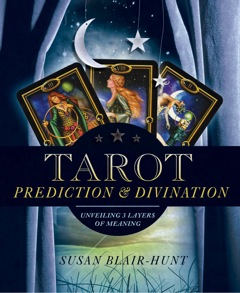 (Llewellyn also publishes the best selection of Tarot decks that I've discovered.)
---
Homeopathy and Core Synchronism have changed my life. First, I was immediately able to breathe after experiencing asthma-like symptoms for years. Many other improvements followed. Here are practitioners I recommend:
Eva Lipton-Ormand, CHoM, CCSP – in Albuquerque, NM
Elizabeth Battarbee of Flourish, Doctor of Homeopathy – available via Skype everywhere and in-person in Louisiana!
---
Elise Hensley, LISW, an amazing healer, specializing in EMDR and Neurofeedback. Elise is one of only a few people trained in Neurofeedback in our area. She is someone who is a skilled and amazing mentor. Better yet, your insurance may cover your sessions.
---
Thank you for enjoying this month's newsletter! You can contact me anytime via email: domikajama@gmail.com for consultations. Visit at Intuitivemoon.com.
Be well!
Blessings,
Dominique