This Month: Astrological Trends * Nourishing Recommendations

April 2018 Astrological Trends
Springtime Morning Prayer: May my life and my efforts benefit [insert specific person or group]. May they be happy. May they be free from suffering. May they dwell in the connection to spirit and live in their highest potential as their highest selves.
April arrives with Mercury retrograde snuggling close to the Sun in Aries, amplifying its effect of intuition and action-oriented life review. Saturn and Mars, who are moving together in Capricorn, are still in loose square to the Mercury/Sun duo, so the question is: have you been acting and thinking out of your highest level of moral development? If so, you may find yourself in a joyous place, resolving things that have been weighing on your mind, with Venus having just moved into her sumptuous home sign of Taurus after her conjunction with Uranus at the end of March. In relationships and finances, this could have brought up some unexpected urges and situations that should calm down in April.
If, instead, you find stress occurring as April opens, spend time actively engaging Saturn's principles of letting go of your ego in order approach life humbly. Saturn's lessons ask us to play fair with no exceptions and to learn to become our highest selves, both in the material and the spiritual dimensions. Mercury retrograde asks us to review the past for any stress points that may have triggered our behavior in the present. The current astrology can set us up nicely to affect the future positively—whether that means changing how we approach our health, our relationships, how we treat ourselves and talk to ourselves inside our minds, or how we survive in the world. With Mars in the mix, it's a time for direct action and change. We can choose to change habits, move, journey, change our minds, journal, travel, make an announcement, change a policy, etc. Easter and Monday, April 2 are the days to inspire these generous changes.
The Sun moves into exact conjunction with the North Node Monday, April 2. That's also when Venus in Taurus begins to approach a trine aspect to the Mars/Saturn conjunction in Capricorn. What a perfect day to begin implementing changes you are inspired to make, as the trine earth energy will boost your potential for success. This influence lasts through about April 11, so labor-intensive projects can be planned for these dates.
I would be remiss to fail to mention the romance potential of this steamy Venus-Mars earth trine! Its connection is even longer. Mars moves away from Saturn (so the heavy energy falls away on April 11), but the steamy romance energy continues all the way from April 2 through April 17 or so. Please enjoy wisely… including if you're looking for times to "put a ring on it," plan a Spring marriage, or make any romantic gesture. Especially after Mercury turns direct on April 14, romantic commitments are favored, although I would never let Mercury retrograde sway me from planning anything, given other favorable aspects.
April 15 is the New Moon in Aries. This adds a lot of energy to new romantic beginnings right after Mercury stations direct. The Sun and Moon are conjunct Uranus on this New Moon. This is another extra boost for the unexpected. A lot of spiritual support, intuition, and emotion comes bundled with this New Moon. I hope everyone will start something new that is dear to their heart on April 15! I expect unexpected good news.
The day that Mercury turns direct, the Sun approaches its exact conjunction with Uranus in late degrees of Aries. People may be realizing they are stronger than they had imagined, or new (especially scientific or humanitarian/revolutionary) ideas may be pioneered on these days, from April 14 through 20.
On the day Mercury turns direct, a long-term aspect that is present all month becomes exact. Jupiter sextile Pluto is a powerful behind-the-scenes positive aspect that is bringing positive change along with it. This is something quite beyond personal control, as they are both non-personal, outer planets and furthermore, located in signs that have to do with the depths of experience (Jupiter in Scorpio) and the structures of the world (Pluto in Capricorn). There are people involved in the changes, and maybe we are even some of them, but we probably won't even understand our parts, or the profound nature of our present actions, until well after the unfolding events of the present time. So, we are living in exciting times but the best we can do is what is in front of us, and there is nothing we can do to move things along. We are all here to play our parts; live our dharma, so to speak. It's a lesson in fate and destiny combined.
On April 20, the Sun moves into Taurus and the world's heartbeat mellows if you put your stethoscope down to the ground. You may feel like getting out to nature lots more for the end of April and May. Gardening and general physical health can be a very enjoyable focus.
From April 15 through April 20, Venus in Taurus opposes Jupiter in Scorpio. Great time to relax as long as you keep from over indulging. Probably going to be difficult to get much work done during these dates. Try to get stuff done in the early part of April. With Venus also trine Pluto mid-month in Capricorn, issues of romance and money may emerge. Relationships may seem particularly intense or obsessions amplified. One thing that may be favored is decorating or redesigning.
April 17, Saturn begins its retrograde period. This will last until September 6. Saturn will move from 9 degrees Capricorn to 2 degrees Capricorn during these months. Saturn is the planet that tests us. Like any good teacher, Saturn will retest us and allow for extra credit when we need some makeup work. So whatever issues we've been going over during the past 3-4 months, prepare to go over them again, and deeper. For me this, will likely be body and weight loss issues. I will continue to need to be explicitly clear and clean about my intentions to treat my body with the utmost attention during the upcoming Saturn transit, maintaining a rigorous exercise routine in addition to a drastically changed eating lifestyle. It has had major results, and Saturn is asking for even more. Capricorn is about restructuring, and the restructuring that has happened has been physical for me (earth energy at its finest for sure). What is being restructured and restructured again for you? Likely it will be as humbling and enriching as it has been for this friendly astrologer.
Pluto turns retrograde in Capricorn on April 22, and this retrograde lasts until September 30. Pluto will move from 19 degrees Capricorn to 17 degrees Capricorn. Pluto retrograde asks us to examine how we use our power and control. Are we letting others control us or do we have healthy self-control? How are our boundary issues going? It's a nice time to get reflective and think about empowerment of ourselves and others, and turn toward positive instead of obsessive behaviors.
April 23 (exact April 25) through April 28, Mercury returns to square Saturn again as it moves forward. This time Saturn is retrograde. It changes the dynamic so that the hard mental work required may feel like an albatross you are carrying for these few days. Communicating may be difficult.
April 21 through May 2, Mars moves into conjunction with Pluto. It's a good time to work independently on what you're passionate about. There's a lot of intense ambition in the air and it's hard to see straight because people are so intent on getting what they want during a Pluto-Mars conjunction. Like they can't stop themselves from ruthlessly moving forward. So, keep it low-key if you can. Use it as a burst of creativity instead of a burst of aggression. Instead use the Sun trine Saturn aspect's energy to focus on mutual respect and understanding. If you want to take on more responsibility, look at the ethics and hard work needed to get there, and think about what guidance you would need from an elder.
____________________________________
Contact Me!
 Let me know what you think! Send an email to domikajama@gmail.com.
---
Nourishing Recommendations
You can learn so much about Tarot from Susyn Blair-Hunt, my wonderful mentor, in her book, Tarot Prediction & Divination, Unveiling 3 Layers of Meaning.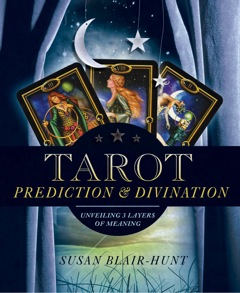 (Llewellyn also publishes the best selection of Tarot decks that I've discovered.)
---
Homeopathy and Core Synchronism have changed my life. First, I was immediately able to breathe after experiencing asthma-like symptoms for years. Many other improvements followed. Here are practitioners I recommend:
Eva Lipton-Ormand, CHoM, CCSP – in Albuquerque, NM
Elizabeth Battarbee of Flourish, Doctor of Homeopathy – available via Skype everywhere and in-person in Louisiana!
---
Elise Hensley, LISW, an amazing healer, specializing in EMDR and Neurofeedback. Elise is one of only a few people trained in Neurofeedback in our area. She is someone who is a skilled and amazing mentor. Better yet, your insurance may cover your sessions.
---
Thank you for enjoying this month's newsletter! You can contact me anytime via email: domikajama@gmail.com for consultations. Visit at Intuitivemoon.com.
Be well!
Blessings,
Dominique