This Month: Astrological Trends * Nourishing Recommendations

March 2019 Astrology Trends
Continuing influences…
December 24-March 24 (exact January 31) Saturn in Capricorn sextile Neptune in Pisces. Aww… Our responsibilities and our dreams are not quite meshing. Both these Planets are at home in their respective signs. Saturn is at home in Capricorn and Neptune is at home in Pisces. So, each is strong right now! Our spiritual energy is pulling us to the east and our sense of being a grounded and rational person is pull us to the north. Our compass keeps twirling from one direction to the other for a few months while we try to steer a ship and see to the far shore. As we learn to honor both heaven and earth during the course of our days, by the end of this Spring, we should have built some daily practices that are pretty robust.
February 13-June 12, 2019 (exact March 28, 2019 from about 7 AM MST to about 2:30 PM MST) Pluto in Capricorn oppose North Node in Cancer. (Pluto turns direct on October 2, 2019 so there's not a chance to oppose the North Node again.) This is an opportunity for true transformation and evolution on a cosmic scale. Look at how powerful the feelings of past habits and forces can be as a shadow and choose to move into the future where and when you can. It's a meditation in change, transformation, and shadow. What is useful and what have you learned? What is needed to grow and become the future you? What needs to dissolve about your identity, so you can heal and what can you reassess in order to serve something beyond your ego? Then, how can you put this into daily practice?
February 18-March 10 (exact February 28) Mars in Taurus sextile Sun in Pisces: A boost of energy! This aspect gives physical energy as well as a degree of emotional cleansing for the end of February. We should feel a sense of aliveness and vitality. We can attend to our projects and get plenty accomplished, enjoy some sports activities, and enjoy being together with loved ones.
February 17-March 19, then after Mercury turns direct on March 28; this aspect occurs on April 6- 13 (exact February 24, March 15 and April 10) Mercury in Pisces trine North Node in Cancer: It might be interesting to see how your brain gets involved in the things from your past during this time period. If so, I guess it's what is meant to be—treading the streets we used to tread. Sometimes we revisit things for a while—go back to visit the old neighborhoods—so to speak. We might not be able to make sense of it at the present time and may not be able to move forward very well, so I say let's not sweat it and just let it be for now. We can find ourselves in mental loops where we can't see how to move into the future, so leave ambitious decisions for later in the year. With our minds in Pisces, I think we may feel more nostalgic and intuitive during the long Mercury Retrograde time period than we do rational. Leaning into self-regulation and self-care that turns away from over-indulging will be a good enough victory.
March Planetary Influences…
March 1-3 Venus in Capricorn Square Uranus in Aries: You may feel restless and bursting to begin something new and creative with this cardinal energy— (make sure it is not an illicit romantic affair!)—but channel it into art or inspiration of some sort.
March 5-6 Mercury stations and turns retrograde at 29 degrees Pisces just prior to conjunct with Chiron at 0 degrees Aries. (Mercury finally completes conjunction with Chiron in Aries on April 20 at 3 degrees Aries.): Mercury has been in its shadow period since February 19, getting ready for the retrograde from March 5-28. Turning retrograde so close to Chiron has me thinking we may be looking at how we have been hurt or limited creatively or intuitively and begin to review how me might break free from those mental models we hold within. The month of March is a time to look at the past; the month of April will be a time to look toward the future. We will have the opportunity to understand and learn about how we can think differently in the new astrological year.
March 6: Big day! New Moon in Pisces (15 degrees) and Uranus transitions into Taurus.
Sun and Moon in Pisces (the New Moon) conjunct Neptune in Pisces, sextile Saturn in Capricorn, and sextile Mars in Taurus: The ego can dissolve at this time of the year as we meditate on spiritual matters and swim in the waters of Pisces! Pisces is the integration and oneness that brings all other signs together; the end of the astrological year. The Sabian Symbol for this New Moon is "In a quiet moment, the flow of inspiration." It's a time of reflection and depth when we can deeply contemplate our connection to a larger universe. If you allow yourself some time alone during this New Moon, you will be giving your spirit and life a gift.
Outwardly, there's an increase in imagination, empathy, psychic impressions, and the ability to understand (and hopefully honor—instead of exploit) the thoughts and feelings of others. Mars in Taurus and Saturn in Capricorn seem almost protective of this New Moon, as if they are Earth sentries watching out on either side of the sensitive Pisces thrumming heart. Saturn in Capricorn provides integrity and Mars in Taurus provides thoughtful action. Both can be channels to manifest your dreams and ideas when you touch deeply into your heart and into universal themes on this New Moon. If you are working on something that is meaningful, and especially if it is meaningful to restructuring the world around you, Astrology offers you encouragement.
March 6 Uranus moves into Taurus and will not move back into Aries again during our lifetimes. Uranus in Taurus means the physical world, the financial world, the relational world, and the ways we eat, posses, and experience life are stimulated by Uranus's radical influence. Uranus acts like lightning strikes a tree. Taurus is earth and Uranus is Space, so space travel may expand during the next seven years. Taurus rules the arts, and Uranus rules network and digital culture, so artforms may expand in new ways and computing may undergo an entirely new revolution. Aries is the Pioneer, but Taurus is the Restaurateur and Artist—so prepare to settle down for comfort and relaxation—a great meal—instead of bold new journeys into unknown territory alone.
March 5-12 (exact March 9) Sun in Pisces sextile Saturn in Capricorn: This is a time to focus on what matters to you. If you were to turn away from your focus, you would not feel good. Integrity will get you through better than entertainment or losing yourself in any sort of indulgence.
March 5-19 (exact March 10) Mars in Taurus sextile Neptune in Pisces: A good time for soul mates/twin flames to meet, or re-meet, since Mercury is retrograde! You may feel you are meeting someone you have known from past lives. With Mars in Taurus, this can be an earthy and sensual connection. Neptune adds the deeply spiritual sense to any union. Those who are in a long-term partnership can feel the sensitivity of their relationship cause a very nice attunement to one another. Ideal time for romantic partners to enjoy one another! Alternatively, you can spend time with friends and groups of people and enjoy the fantastic vibes that emanate from being together. Drama, music, dance, etc. are all favored.
March 10-16 (exact March 13) Sun in Pisces sextile Pluto in Capricorn: Focusing on psychological issues can help you solve some mysteries. Also, you can explore issues of power and influence and how they have affected your ability to integrate your whole self. How can people help or hurt others through their reactions and behaviors, and what they build in life? What do we have the power to choose?
March 12-16 (exact March 14) Mercury Retrograde conjunct Sun in Pisces: Reviewing your communication, self-expression, maybe even feeling you may take a class. Reading, writing, details, travel around town (back and forth), distraction, talking, and a high level of stimulation. Possibly re-doing things or re-starting archived projects or endeavors.
March 12-19; April 9-15 (exact March 15 and April 12) Mercury Retrograde square Jupiter in Sagittarius: This gives you the ability to see the big picture and also helps you miss some of the finer details. It's likely that even though you have an optimistic perspective, you will have to go back over whatever you produce during this time. (There's a danger of over-estimating your abilities or coming across as egotistical also.)
March 13-20; April 7-14 (exact March 16 and April 11) Mercury Retrograde sextile Pluto in Capricorn: One way to focus your communication that is supported is the area of psychology and deeper subject matters. When you turn away from the frivolous and work on virtuous transformation, Astrology supports you. This is how the energies are directing our expression for the highest good at this time. Therefore, I suppose talk with your spiritual mentor or therapist and think about your mental models instead of go to a party…
March 11-17 (exact March 14) Sun in Pisces trine North Node in Cancer: At this time, we have access to sense the direction our lives should take—should we choose to tune into this energy. The universe is gently guiding us along. The danger is that we can get lulled into the feeling that everything is just fine the way it is and we don't have to do anything. You will be better in the long run if you initiate some new activities that push you into some new territory.
March 11-17 (exact March 14) Sun in Pisces square Jupiter in Sagittarius: Does everything look and sound good? Does it feel like you could expand infinitely? Unfortunately, that is Jupiter talking and gravity will still be a factor when this aspect ends. Somewhat in contradiction to the Pisces Sun trine Cancer North Node, this aspect also asks you to practice moderation and good habits in all things. I will meet you there, and I will do the same.
March 15-20 (exact March 17) Mars in Taurus sextile Mercury Retrograde in Pisces: Your intuition and actions are aligned in such a way that they affect you physically. You may really feel a hunger to connect with others and a courage to communicate how you feel more than usual. This may not come out as words but in how you move, relate, sing, dance, emote, or act. You may feel a strong sense of purpose and justice, a strong need to comfort, protect, and be comforted. Safety, relationships, and commitment are key.
March 16-April 12 (exact March 22 and April 7) Mercury Retrograde in Pisces sextile Saturn in Capricorn: A great time for looking into the history of your family and ancestors. A time of good judgment for studying, learning, teaching, organizing, and looking at long-term projects. More serious subjects are favored.
March 17, 2019-February 26, 2020 24 (exact January 12, 2020 at 22 degrees 46 minutes from about 8:43-10:43 AM MST) Saturn in Capricorn conjunct Pluto in Capricorn: There comes a time to rebuild the foundations of rotting structures and next January it will be come apparent that the time has come. This is one of the most important aspects of our lifetimes. The last time Saturn and Pluto met in Capricorn was, I believe, 1518. In October of 1517, Martin Luther hammered the notice on a church door and during 1518, the protestant religious reformation began. One way or another, change to the systems that have been slowly sinking and decaying will be manifest. How this affects you, personally, will be anyone's guess. However, this is a long-term aspect. For now, it is coming into orb this month and will get stronger until it is exact next January. Saturn in Capricorn is the hardest working placement in the zodiac. Pluto in Capricorn is the destroyer/creator of governments. Together, they will transform the social constructs around us.
March 20: Sun enters Aries at 3:59 PM and then Full Moon in Libra and Sun enters Aries, March 20 7:43 pm:
New Astrological Year Chart, or what 2019/2020 has in store for us: The following aspects occur during March, but also the snapshot as the astrological year begins sets the tone for the entire year!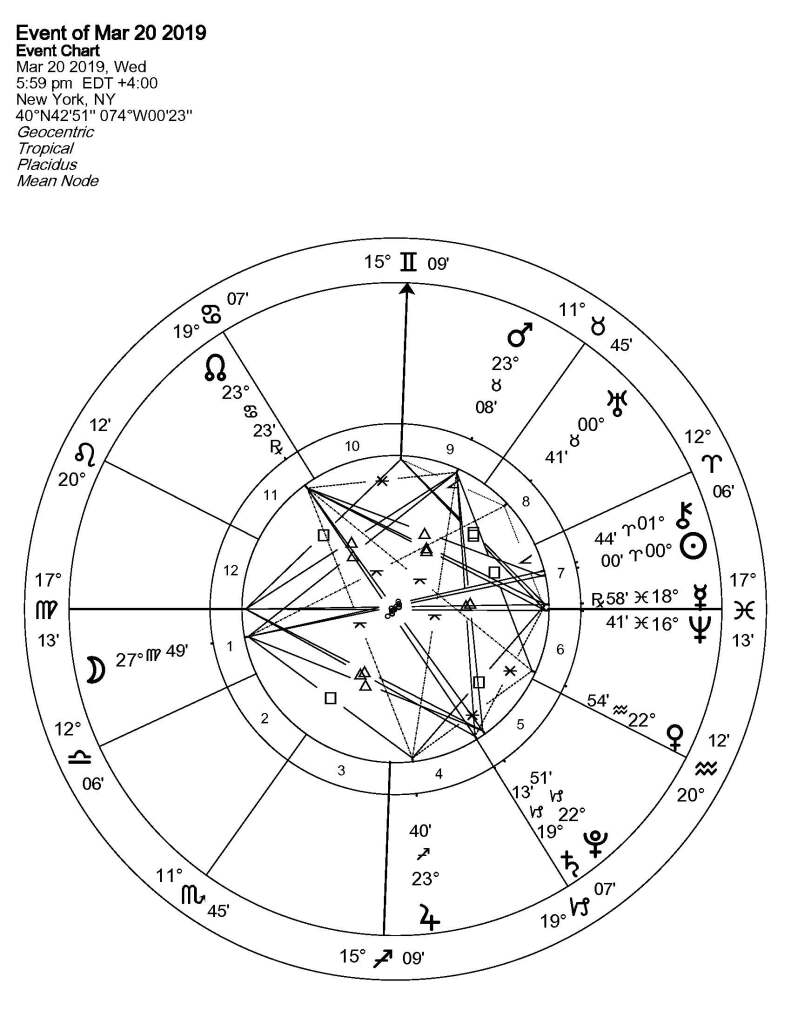 Sun conjunct Chiron in Aries: This year, we will need to be tough as nails and also face our traumas, wounds, conflicts, and hardships. It is important to learn from and grow from what has previously held us back. We will develop regenerative healing powers as a result.
Mars in Taurus Trine Pluto in Capricorn: Provided you have everything you need, you can take action finally on the things you have been waiting for! This aspect provides lots of birthing energy for the things you have been pregnant with for a long time. You probably need to give a few powerful pushes, though. [March 15-March (Exact March 20)]
Venus in Aquarius Square Mars in Taurus: The divine feminine demands freedom, stimulation, and liberation this year. The divine masculine is moving slowly, feeling things out carefully, and craving comfort. [March 21]
Venus in Aquarius Sextile Jupiter in Sagittarius: Good luck indicator. This is a warm and happy aspect allowing broad expansion, favoring generosity and socializing, happy love-making and sensuality in relationships, bestowing gifts and good fortune, and all-around benefits. A great signal that the new year is full of good fortune. The only caution is to practice moderation, as always, where Jupiter is involved. [March 21]
Mercury Retrograde conjunct Neptune in Pisces: You may be overwhelmed by the amount of information you receive in dreams, during meditation, and intuitively. Subject matters such as Astrology, spirituality, etc. may be much more up your style at this time. Stay away from those who are anything other than unbiased and compassionate. Those who are unable to let go of deceit and aggression are not able to manifest their higher natures yet.  (Speaking of Martin Luther earlier in this newsletter, this is one of the aspects in his natal chart!) [March 18-April 9 (exact March 24 and April 2)]
Pluto in Capricorn oppose North Node in Cancer: Evolution that is calling you forth to become more than who you thought you could be. The dissolution of your ego beyond what you can control. Looking to your higher self for guidance in order to integrate the conflict between chaos and evolution.
Mars in Taurus sextile North Node in Cancer: The North Node in Cancer is about learning to view others as precious members of our family. With Mars sextile the North Node, it's possible to put that attitude into action. On our personal journeys, we can collaborate and cooperate in ways that are courageous and disciplined. This helps us help others. As we navigate our paths forward, we can sometimes do the most by doing less. Allowing others the space to be themselves and observing their strengths can be a very Mars-in-Taurus way of actively supporting them. Sometimes allowing others to grow is like allowing our children to grow by arranging opportunities for them. [March 16- March 26 (Exact March 21).]
–End of astrological new year aspects–
March 26-March 31 (exact March 27) Venus in Pisces Sextile Uranus in Taurus: Another good time to meet new people, whether platonic or romantic. A good time for entertainment and artistic endeavors, as well. Originality and self-expression are supported.
Mercury stations and turns direct on March 28 at 16 degrees Pisces, the same degree as Neptune: It would be super nice if you can take this day to be in solitude or with your friends because not only is Mercury doing a turn-about, but conjunction to Neptune is one of the most confusing aspects for communication to boot! It's probably a good aspect for meditation and dreaming; not so good for talking and doing business. If someone "gets you" on March 28, they really "get you!"
__________________________________
Contact Me!
 Let me know what you think! Send an email to domikajama@gmail.com.
---
Nourishing Recommendations
You can learn so much about Tarot from Susyn Blair-Hunt, my wonderful mentor, in her book, Tarot Prediction & Divination, Unveiling 3 Layers of Meaning.
(Llewellyn also publishes the best selection of Tarot decks that I've discovered.)
---
Homeopathy and Core Synchronism have changed my life. First, I was immediately able to breathe after experiencing asthma-like symptoms for years. Many other improvements followed. Here are practitioners I recommend:
Elizabeth Battarbee of Flourish, Doctor of Homeopathy – available via Skype everywhere and in-person in Louisiana!
---
Elise Hensley, LISW, an amazing healer, specializing in EMDR and Neurofeedback. Elise is one of only a few people trained in Neurofeedback in our area. She is someone who is a skilled and amazing mentor. Better yet, your insurance may cover your sessions.
---
Thank you for enjoying this month's newsletter! You can contact me anytime via email: domikajama@gmail.com for consultations. Visit at Intuitivemoon.com.
Be well!
Blessings,
Dominique