This Month: Astrological Trends * Free Guided Meditations *  Cod Texas Chili Stew

February 2016 Astrological Trends
Things are moving around backstage, but February is somewhat of a time to breathe. For example, Saturn in Sagittarius is slowly moving into position to trine Uranus in Aries–especially after February 18th.  Never exact until December, this is a nice energy. It will be about bringing needed and structured change. It's change that can be done by a calmer voice, and cooler mind, one that can think clearly. Uranus sometimes brings change that is abrupt and sudden, but this is change that is instructive and well-planned. Adjustment brought with the capacity to expand freedoms while still working within rules and regulations. There is a creativity coming after the upheavals of the past decade of Pluto-Uranus square aspects that can support innovation, and that is how Saturn and Uranus can help us to create a better world if we use their energies optimally. This energy is dancing in the background until it really ignites on December 24, 2016 and continues for a year, occurring exactly again on May 19 and November 11 of 2017. Saturn slows down what it touches, and asks for examination and study of the area. Sagittarius, where Saturn is located, is the big picture, so we're asked to keep a practical eye on the big picture of our lives and be willing to learn more and expand our palettes. Keep that in the back of your mind moving forward.
As for the other planets, there is plenty to discuss, as well. The month opens with Mercury Conjunct Pluto in Capricorn, Square Uranus in Aries. After February 4, Venus and Mercury are never more than 6 degrees apart, and sometimes only 3 degrees apart. While not bedmates, I'd say they are roommates the entire month. This means the month is open for long, friendly forays into artistic projects, for relaxing and appreciating the beautiful things in life, for diplomatic endeavors, for successful communications, for many resolutions and for much enjoyment. Writing and communications projects, the arts, finances, relationships, anything intellectual, travel, families and friends—all of these and more are ruled by Mercury and Venus. They move through Capricorn (restructuring) and then through Aquarius (revolutionizing). Feel free to take your time and dive into the projects before you. This is a month to make serious progress on your goals and dreams, and you can enjoy it, too.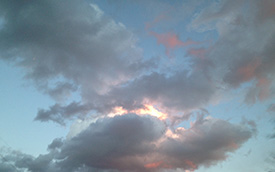 February 4-7 may kick off this period by bringing unexpected insights, or, conversely, unexpected anxiety, depending on how Uranus reveals itself in square aspect to Venus (and as Venus and Mercury move past Pluto in Capricorn) or how you are able to manifest the energy. Hopefully you can flip it into insight even if it feels like an electric charge coursing through your system. This may have triggered a change in our minds and hearts about how we view something, and inspired a new course of action. This is just in time for the Aquarius New Moon on February 8.
The Sun and Mars are also big players in the energy throughout the month. Through February 15, the Sun in Aquarius (sometimes loosely) squares Mars in Scorpio. While Mars in Scorpio provides plenty of drive to get things done, Mars is also in a tenuous pattern for this year (through the end of September) where it will be traveling back and forth through the signs Scorpio and Sagittarius as it goes through a long retrograde that will begin in mid-April. Mars is the sign of action, so throughout the year it may feel like we are turning around and around, walking over the same ground again, or frustrated and unable to move forward. I bet we'll wonder why. The reason is Mars, which is movement, going in circles. Let's do ourselves a favor and remember back to this February forecast and say: It's OK; it's just the Astrological "weather" out there. We'll move forward again in October! And we can let it be and practice patience with ourselves and everyone around us. Otherwise, we can let the slowdown lead us into reacting instead of leading others to the safety of peaceful moments—which is what any mature Mars Warrior would do! We can flex our Martian strengths by using the Tao principles and teaching and demonstrating as much as we can throughout the Summer. Preparing in February, resting, or just clearing things from our plate so we are ready for the year to come is a good idea now.
On January 5, Jupiter turned retrograde in the sign of Virgo. In February, Jupiter will oppose Chiron, situated in the sign of Pisces. This opposition will hit its exact point the day after the Virgo Full Moon on February 22. The Sun moves into Pisces on February 19.
This is the second of three exact Pisces Chiron / Jupiter Virgo Oppositions. The first was November 3, 2015, and the last will be in a month on March 6, two days before the total Solar Eclipse at 18 degrees Pisces—which will be conjunct Chiron in this configuration.
The Virgo-Pisces Axis asks us to open up to the big picture in order to adjust and examine, if not heal to the degree that we can, our relationship to that which is infinite. We're really asked to call back and integrate parts of ourselves that help us expand our mission for being on earth, and offered opportunities to develop ourselves and our environments in big leaps. However, the engine for development is faith and dreams, and we're asked to delve into some traumatic things, and to examine things that look subtle at first but become larger as they're pondered. Dreams are important.  We have the opportunity to examine our issues more than once, and to improve our understanding as well as our actions and responses. Jupiter has me assured that our intentions are positive—we all want to do the right thing—so have faith that we're all doing the best we can, even if our skills leave something to be desired. Remember that there's always a reason that people behave(d) the way they do—and be willing to use Pisces energy to delve deeper and gain understanding (you needn't agree to understand something) as issues are slowly unknotted in life.
February 27-29 brings more Pisces energy. For the Leap Year, the Sun and Neptune combine to illuminate higher consciousness and wholeness. Once a year for the next decade, the sun will align with Neptune and we can use this time of the year to tune in to and align ourselves with what we need to connect to in the process of opening up the dimensions within ourselves that lead to our highest calling. This means connecting to the depths of our shame and transforming pain into purpose. It means making the journeys through levels of being that are both animalistic and angelic. It means being eaten alive and destroyed in the course of our journeys—dismemberment the shamans call it—in order to remember who we are and to be remade cleanly. It's impossible to predict where you are, but we all have times when we're in earthquake mode, times when we're drowning, times when we have to visit the center of our beings instead of live comfortably. And then we have times when we are intensely comfortable and grateful, filled to overflowing with gifts to give and to provide to others. We have times when we are blossoming and happy—moving in the arms of grace and abundance. Neptune will not make it clear which part of the spectrum you will fall upon this year as the Sun visits. The trick is to feel excited and joyful about all of it—because we are changing and growing as life breathes us into maturity. One of the things Neptune and the Sun awaken us to is the truth that we control much less of our development than we think we do. We are like children in the womb of this earth—expanding and growing despite our illusion that WE are making it happen. Instead, we can trust that we're as much a part of nature as we've ever been. Just as we were before birth, what we define as "life" is likely preparing us for another birth. If we allow our senses their exquisite sensitivity—allow ourselves to evolve—can we tune in to, reach in to, dimensions beyond what we have explored so far…?
Pisces energy is the end and integration of one phase and the preparation for the beginning of another. March will be full of Astrological events—an eclipse among many other things—so the end of February asks us to pause and look internally and deeply and truthfully as we're able. Neptune allows us to connect into the oneness beneath the mirage of characters that we experience on the stage of our daily dramas. Allowing our minds and hearts to dissolve together behind the curtain of language, interplay, and letting go of stress… These are infinitely worthwhile.
---
Meditation
Free this month:
Capricorn and the Temple of the Elemental Carrot Guided Audio Mediation
The Eternal Fire: Leo Chile Guided Meditation
---
Nurture Your Inner Child Guided Meditation
---
Want to read more? How about my article on Leo at Kajama? "Leo Rules the Chile Pepper": Leo is fixed fire, and the planet ruled by Leo is the sun. It is the center of what we know to be life on earth. While we can't physically stare directly at the sun, we are free to stare right into the heart of Leo energy—it will hold us steady and gaze into our souls with grace and love. Get ready to FOCUS…
---
 Nourishment for the Body and Soul
This soup is great for a gathering and great to freeze and eat later. You need a BIG pot to make it, or you can use less water/stock and make a less brothy stew. It is gluten-free, salt-free, has tons of vegetables, and is FULL of flavor. It's a warm and spicy comfort food for cold days. It won't matter if the ground hog sees its shadow. We will eat hot soup not matter what!
Cod Texas Chili Stew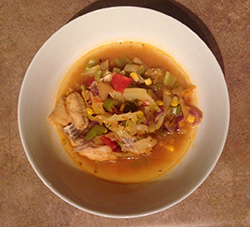 Yield: Serves an army (10 or more servings).
Ingredients:
4 tbsp butter
8 oz diced onion or 1 yellow onion, diced
2 cups sliced celery
4 cups or 8 oz shredded green cabbage
1 cup shredded carrots
2 TSP Ground chili powder
2 TSP Ground cumin
4 garlic cloves, diced or pressed
3/4 TBSP Paprika
2 TSP Thyme
1.5 TSP Cayenne pepper
14 oz can diced tomato
8 oz frozen corn
32 oz turkey or chicken broth
32 oz vegetable broth
Up to 32 oz water
2 1/2 lbs bite size cod pieces
Directions:
Saute diced onion and celery in melted butter in a large stock pot or Dutch oven for about 5 minutes over medium heat. Add cabbage and carrots and saute for another 3 minutes, approximately. Add in corn and tomatoes. Cook for about 5 minutes. Then add spices (which can be adjusted to your taste to make the soup milder or spicier) and stir. Pour in chicken broth and vegetable broth. Add cod pieces carefully and then add as much water as you'd like to make the stew as brothy as you prefer.
Bring stew to a slight boil, and then lower temperature to medium-low and cook for 20 minutes. Try not to over-cook this stew, because over-cooked fish is not as tasty as other simmered meats.
Serve in hefty portions, as this is a low-calorie, stock-full-of-vegetable stew!
Serving Suggestion: Serve with toasted garlic toast or a cheese bread on the side for dipping.
---
Nourishing Recommendations
You can learn so much about Tarot from Susyn Blair-Hunt, my wonderful mentor, in her book, Tarot Prediction & Divination, Unveiling 3 Layers of Meaning.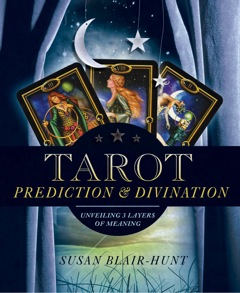 (Llewellyn also publishes the best selection of Tarot decks that I've discovered.)
---
Homeopathy and Core Synchronism have changed my life. First, I was immediately able to breathe after experiencing asthma-like symptoms for years. Many other improvements followed. Here are practitioners I recommend:
Eva Lipton-Ormand, CHoM, CCSP – in Albuquerque, NM
Elizabeth Battarbee of Flourish, Doctor of Homeopathy – available via Skype everywhere and in-person in Louisiana!
---
Elise Hensley, LISW, an amazing healer, specializing in EMDR and Neurofeedback. Elise is one of only a few people trained in Neurofeedback in our area. She is someone who is a skilled and amazing mentor. Better yet, your insurance may cover your sessions.
---
Thank you for enjoying this month's newsletter! You can contact me anytime via email: domikajama@gmail.com for consultations. Visit at Intuitivemoon.com.
Be well!
Blessings,
Dominique